On this step you will be asked to setup a app action, the app actions will be defined by the developer's selection

o
No :
this app will be accisable to kylas information only but won't be able to perform any action
o
Yes :
When you elect yes , then you are allowing this application to take certain action on kylas records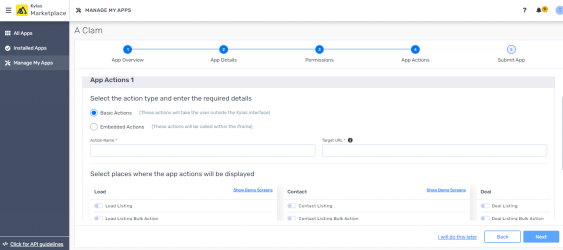 Here you can give different actions like,

o
Basic Actions-
When user click on app action icon then this markeplace app will open in new tab
o
Embedded actions-
When you select embedded actions then the app will open in an iframe under kylas environment only.
·
Here you can Give a name to app action eg. Click to call, Send Message
·
Also developer need to provide Target URL on which all the requred parameters will be sent as query parameter.
·
All the parameters are predefined on the places that you are selecting to show this app action.